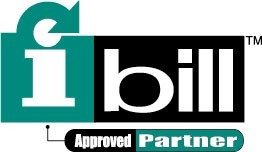 ibill Announces Approved Business Partnership
with
MCR Web Design
We are pleased to announce that MCR Web Design is an Approved Business Partner of Internet Billing Company, LTD (ibill). This partnership has been created to provide you with high quality value-added services and resources not available through ibill, which may be able to help your online business obtain the success you desire.
ibill, one of the world's leaders in e-commerce, offers unique turnkey billing services
for Web Entrepreneurs with or without a merchant account and for virtually any commercial application. ibill's payment methods include credit card, online check and 900 phone billing.
If you do not have an Internet merchant account and you are selling intangibles, such as access, subscriptions, software downloads, etc., ibill's Subscription Sales Reseller service is most suited for your needs. (Subscription Sales TP is what you need if you DO HAVE an Internet merchant account)
If you have an Internet merchant account and are selling tangible products that must be shipped, ibill's Catalog Sales TP service offers the appropriate solution.
Whatever your online application, ibill is the billing company you need.
For further details on our services
you can contact MCR Web Design, or go to www.ibill.com.
When completing the ibill Service Agreement,
please remember MCR Web Design's Partner ID…
*ibill Partner Disclaimer: "The ibill partner page contains links to third-party Web sites, which are not under the control of ibill. Ibill makes no representations whatsoever about any other Website to which you may have access through the ibill website. When you access a non-ibill web site, you do so at your own risk, and ibill is not responsible for the accuracy or liability of any information, data, opinions, advice, or statements made on these sites. Ibill provides these links merely as a convenience and the inclusions of such links does not imply that ibill endorses or accepts any responsibility for the content or uses of such Web sites."
If you are ready to proceed to signing up with ibill click here.
By clicking this button, you will be taken to ibill's sign up page.
If you have any questions filling out the agreement, please call ibill Sales at (888) 237-1764.
You will be assisted with the signup process.